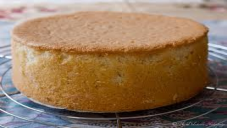 Ingredients:
Eggs 4
Caster sugar ½ cup
Flour 2/3 cup
Butter, melted 60 gm
Cream 300 ml
Icing sugar 2 tbsp
Strawberry jam, warmed ¼ cup
Strawberries, sliced 1 cup
Method:
Put eggs and caster sugar in a bowl over a pan of simmering water and beat it well about 10 minutes till thick and creamy.
Remove bowl from pan and beat till it comes to room temperature.
Very gently fold in the flour and then the cooled butter, pour mixture in a greased and lined tin, bake at 180 degrees C for 20 minutes. Turn upside down on a paper covered wire rack to cool.
Beat cream and 1 tbsp icing sugar, split cake in half and spread with jam and cream and top with strawberries, then cover with the other sponge and dust with 1 tbsp sifted icing sugar and serve immediately.