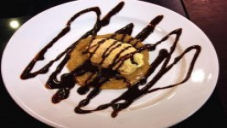 Ingredients:
1 liter Vanilla ice cream
2 Egg
1 cup Bread crumbs
2 cup Flour
1/2 cup Milk
for frying Oil
To make caramel sauce
1 cup Brown sugar
1/2 cup Cream
100 gm Butter
1 tbsp Corn flour
Method:
To make the caramel sauce take a pan and melt 100 grams of butter. Add 1 cup of brown sugar and mix well. As soon as all of the sugar crystals have melted whisk well.Mix 1 tbsp of corn flour in some water and slowly pour it into the mixture, stirring continuously.
After 1 -2 minutes take the pan off the flame The caramel sauce is ready. To make the ice cream balls freeze 1 liter ice cream until it firms up. In a mixing bowl beat together 2 eggs and 1/2 cup of milk. In one plate spread 2 cups of flour and in another plate 1 cup of bread crumbs.
Now take out the ice cream from the freezer and scoop out the ice cream Coat each scoop with the flour, followed by the egg and milk mixture and finally with the bread crumbs. Now put this coated ice cream balls in the freezer. Heat some oil in a pan and fry the coated ice cream balls for 30 seconds. Now dish out and serve it with the caramel sauce.